Chalet Zenya, happiness from A to Zen
Founded in 2015, Chalets Zenya offers high-end cottage rentals in the heart of nature. All of our chalets are located within a 100km radius of Montreal (approximately 1h 15min drive).
If you're looking for a place to spend a holiday in complete tranquility, you've come to the right place. Our properties are specifically designed to make every stay an unparalleled experience in which every worry slips away the moment you arrive. With everything you need to have an unforgettable stay, what's stopping you?
Whether it's for a restful weekend, a romantic getaway or a week's vacation, you will discover an authentic, comfortable and welcoming setting, where memories with loved ones are made to last a lifetime.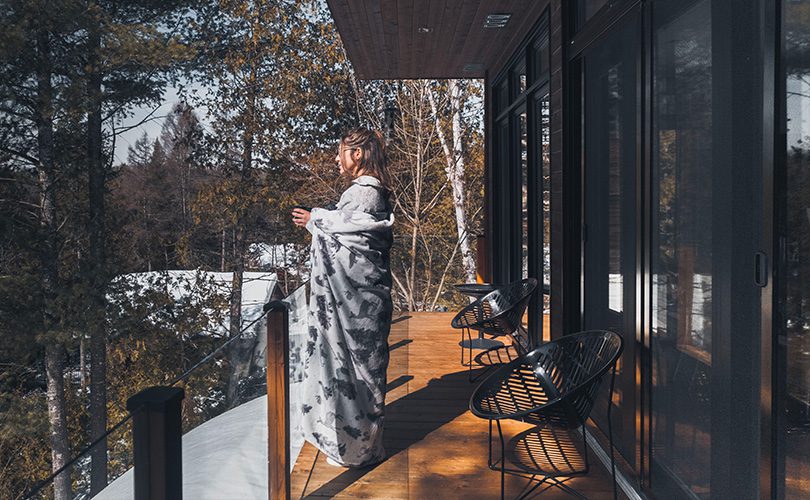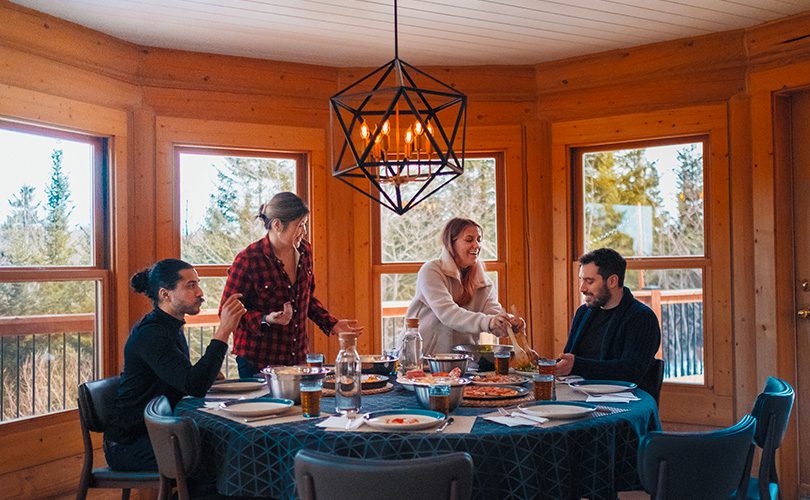 It's in our nature to bring you back
It's no coincidence that over 60% of our guests come back to us year after year.
Our warm welcome combined with the exceptional quality of our cottages and our involvement in the community make all the difference. With Chalets Zenya, you can rest easy knowing that we'll do everything we can to make your stay an unforgettable experience.
Discover our magnificent cottages,
because it's in our nature to charm.
Why choose Chalets Zenya?
What our guests think of Chalets Zenya
«

We had the great pleasure of renting Saint-Hubert for one month. After a few days, it really felt like home. It is beautifully decorated and our host, Nicolas, was extremely responsive to all our needs. The perfect place from which to explore Montreal. We highly recommend it!!!

»

«

A really amazing chalet. The glass windows looking out from the dining room was a real wonderful experience. The dock by the lake with the red chairs is awesome for our group. We loved staying at the chalet. Thank you for hosting.

»

«

Merci! Merci! Merci! Tellement relaxant! Nous avons vraiment profitez pour nous reposer! Devant un feu ou assis dans le spa. J'y retournerai sans hésitation!

»

«

A really amazing chalet. The glass windows looking out from the dining room was a real wonderful experience. The dock by the lake with the red chairs is awesome for our group. We loved staying at the chalet. Thank you for hosting.

»

«

Luxurious chalet very well located and very well equipped. The rooms are very comfortable. The spa and sauna were well appreciated. We had excellent service from Nicolas. Thank you for this unforgettable stay.

»

«

We were a group of 16 people who rented 2 chalets from Nicolas. Both were ideal spaces for group entertaining and everyone was super comfortable. We found everything we needed for meals and the chalets were spotless. They are as beautiful as they were fun - we really loved the saunas and hot tubs. Thank you for a fantastic stay.

»

«

Beautiful chalet in a beautiful location. My family and I had a great time

»

«

Great stay. Place was super cozy and well maintained.

»

«

Beautiful chalet in a quaint ski town in Quebec with private surroundings. Kitchen was stocked with everything we needed to enjoy nights in, house full of games and toys for kids to play with, enough towels to enjoy hot tub and sauna. The hosts were prompt with responses whenever we had questions. Thank you!

»

«

Will remember this place forever. Amazing weekend. I already recommended this place to all my friends and family.

»

«

Spectaculaire à l'intérieur et à l'extérieur. Dès que nous avons franchi la porte d'entrée, ce fut un sentiment de paix et de sérénité. Tout était impeccablement propre, bien aménagé et la vue sur les feuilles d'automne était superbe. Le bain à remous et le sauna étaient tous deux de premier ordre, et les enfants sont devenus obsédés par le billard sur la toute nouvelle table au sous-sol. Hautement recommandé!

»

«

Amazing cottage for a long week-end. It has everything you meed to disconnect and chill. I recommend it !

»

«

We have wonderful experience with this cottage and the host! Everything was above our expectations! Amazing location in a resort but still private with distance with other cottages! I am not easy person! I am perfectionist person and this cottage had nothing as cone to complain! So clean, so quiet! Safe place! sauna, hot tub, fire pit, game room, tv in all rooms, games…, we can't expect anything more! Hosts were very responsive! Very nice people! I recommend this place 100% to anyone who loves luxury experience in the middle of nature! Thank you so much!

»

«

Beautiful location and great house!!! Everything was as expected!!!

»

«

Wow, wow, wow. What a great stay! The space is gorgeous, the neighborhood charming, the beds comfortable… we wanted to move in! Both the indoor and outdoor spaces are perfect. And the area was so much fun to wander! 11/10.

»

«

Perfect location, with 2 STM stops close by, along with easy access to shops and dining. The apartment itself was spacious and fully equipped. We loved the rooftop terrace for our cinq a sept! We will be back. A lovely place to stay, and a gracious host. Excellent communication.

»

«

Amazing house and perfect location!

»

«

This was such an enjoyable experience that I would recommend it to friends and family without hesitation. Everything lived up to our expectations and the one minor problem that occurred was resolved to our satisfaction by our hosts. It was our first time staying at a chalet in this area and we found that the location was excellent - centrally located and easily accessible for all our outings. And all the on site amenities made the trip that much more special - from the fire pit, to the hot tub and sauna, to fully equipped kitchen and laundry facilities. Many wonderful memories were made on this trip and the chalet was a huge part of it. So happy we booked with you!

»

«

Beautiful and clean place!! Great for upto 10 people !! Would love to recommend to anyone . It was a great weekend !

»

«

Very spacious and well equipped chalet. Great spot for a relaxing weekend visit.

»